Lysaker / Vaekero
What used to be an industrial area on the western outskirt of Oslo has now been turned into somewhat of a gem with restaurants, apartments and even a beach. A hub for high paced IT companies such as Microsoft, Oracle and Computas, the area also offers a more laid back atmosphere once you step away from the office areas.
You can walk here, or ride your bike, along the waters edge from downtown Oslo. It is a beautiful route that will take you about 45 minutes by foot and it is well worth the calories spent.
There is a number of small beaches scattered around the area, but the main one is probably the one most suited for families with children. The beach is mainly pebbles, but there are a few sandy spots in between.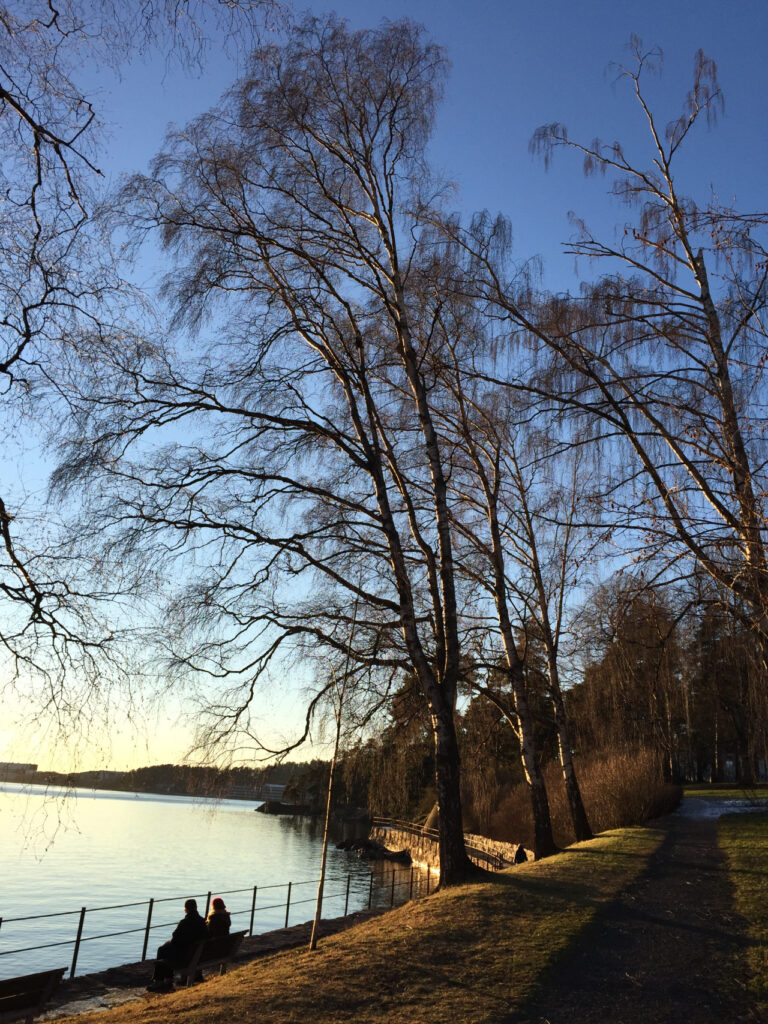 Sandvika / Kalvoya
Just 15 minutes west on highway E18, or 10 minutes by train, you find the neighboring city Sandvika which has both good shopping and nice recreational areas. One of the biggest malls in Norway is located here, as well as IKEA and many smaller speciality shops.
In walkable distance from Sandvika, the beautiful island Kalvøya is easily accessible via a pedestrian bridge. There is also a very nice sandy beach here, with a free water park available for the children. The children may also enjoy feeding some of the many swans, ducks and geese that consider this area their home.
For the grown-ups, the island offers both beautiful trails, picknic areas, and beaches. There is even a naturist beach at the far south part of the island.
Fornebu
What used to be the national airport of Norway have after the old airport was closed down been turned into a whole new neighborhood surrounded by a beautiful nature preserve and a communal beach. The area is popular for bird watching and other recreational activities, but parking can be a problem in the summer when everybody in Oslo like to migrate to the beach. It is a big area though so it rarely feels too crowded even on the most sunny days so it is well worth a visit. However, take the 31 bus all the way to the end and do the 20 minute walk to the beach instead of driving unless you arrive really early or really late.
Hvalstrand
This beautiful area just southwest of Oslo has a long tradition as a recreation area for both young and old living west of Oslo. Close to the city of Asker just fifteen minutes out of Oslo, it is easily accessible by car or bus. It has a beautiful sandy beach as well as a gorgeous picnic areas, and is well suited for families with a diving tower and boat rental on-premises. Parking can be scarce on sunny summer days, so arrive early or you may just have to turn around.
There is also a nice restaurant with beautiful views over the ocean, but it is pretty expensive there so if your budget is tight you are probably better off bringing your own food. And with so many pretty places to sit down for a picnik, you are probably better off spending your hard-earned money somewhere else.
Konglungen
This is another wonderful recreation area right on the water just outside the city of Asker. Unlike Hvalstrand it has no sandy beaches but instead cute little cobblestone beaches with rocky areas in between which makes it very private and quaint. There is also a little lake with a large number of ducks and other birds, and a pasture with some very friendly horses who loves the attention from visitors.