We have been in Stockholm once before and really fell in love with the city, so when our plans to visit Denmark and Germany this summer fell through due to a misunderstanding around Rabies vaccination for our dog Gwen, we decided to revisit this beautiful capital of Sweden once again.
Last time we visited Stockholm we only got to see the inner city area, but we have heard so many good things also about Stockholm's surrounding areas and decided to make this the main focus for our trip this time.
We pre-booked a 5 day stay at Hotel Birger Jarl in the Norrmalm neighborhood of Stockholm, which is the same hotel we stayed at the last time we visited the city. It may not be the most adventurous approach, but when you travel with your dog it's nice to have some degree of predictability. We were – and continues to be – impressed with the hotel's facilities for dog owners, including gift bag for the dog in your room upon your arrival, special tables in the restaurant so you can bring your dog with you to both breakfast and dinner, and just a generally positive atmosphere and attitude towards your pet.
Thursday July 23
The trip from Oslo to Stockholm normally takes about 6 hours if you drive non-stop and are lucky enough not to run into any heavy traffic. We had planned an early departure around 8 am in order to avoid the rush hour traffic into Stockholm in the afternoon.
Of course, driving 6 hours non-stop is never a good idea when you are traveling with your dog and our first stop was just after the Swedish border, about an hour into the drive. We try to make a quick stop about once an hour when we travel with Gwen, just to let her pee and sniff around a little. I believe you should always try to make a trip an adventure for everyone in the family, and that of course also includes its four legged members.
Next stop was about an hour later at a road stop where we could fill up both our car and ourselves. Gas is not a lot cheaper in Sweden than in Norway, but you can expect to pay about 10 percent less. When it comes to the food, there is a considerable difference of 25 percent or more.
6 hours – and several stops – later we arrived in Stockholm around 4pm, in the middle of rush hour which was exactly what we were trying to avoid. Fortunately most of the locals appeared to have vacation too, and we were able to navigate to our hotel without any delay.
Arriving at the hotel we received the exact room we had requested – located at the end of the hall so that our dog would not be stressed by people walking pass the room. Also, the sincere welcome by the receptionist to both us humans and our little four legged daughter was greatly appreciated. You have no idea how many hotels we have stayed at were we have had the feeling that we were barely tolerated.
Another great benefit of staying at Hotel Birger Jarl is that there is a grocery store in the same building so you don't have to buy all your necessities at hotel prices. We bought a few baguettes and some fresh chicken at the store and called it a night.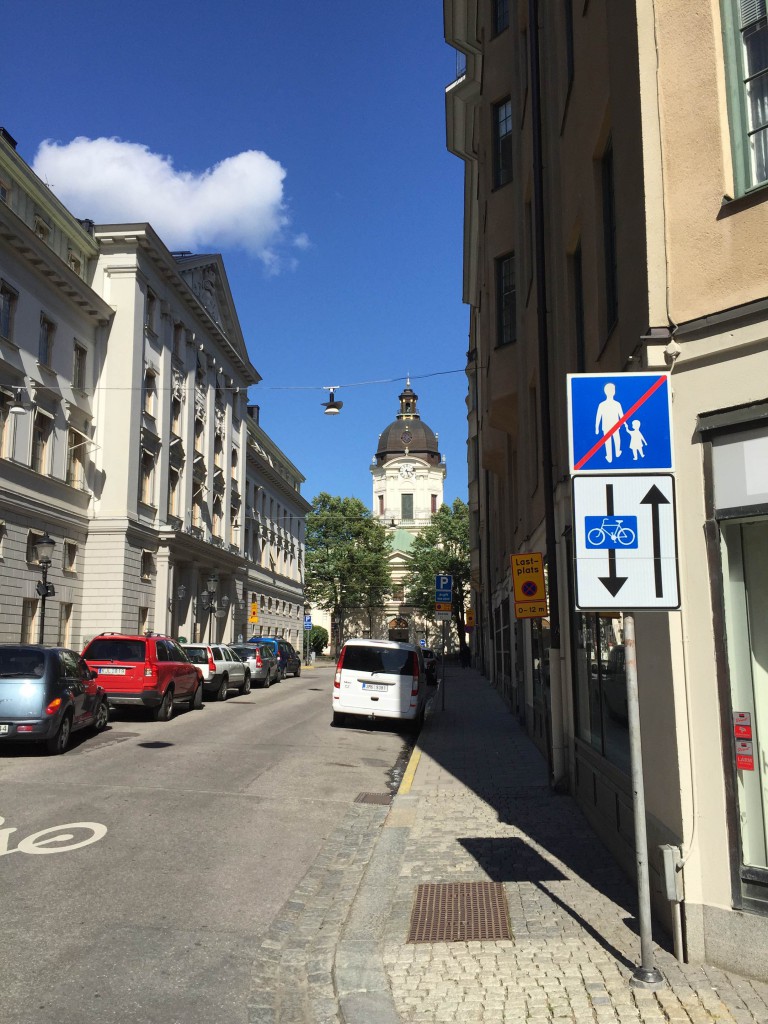 Friday July 24
We got up before 9 am in order to not miss breakfast, but when we came down to the restaurant, all the tables assigned for dog families were taken already. That was not a problem. The concierge graciously followed us to another table and we were all able to have a delicious breakfast together and start off the day perfectly. This is the first hoteI we have ever been to that have done this and we will always love them for it.
We had no big plans for the day other than to spend time together and to make our daughter very tired. The reason for this was that me and my partner wanted to have a date night alone together. Many other places this is not possible as Gwen gets very nervous and we feel horrible if we leave her by herself. However, at this hotel she is not nervous at all, and after we had walked all day she was so tired that she almost seemed happy that we left her alone.
At 11pm, we went to Candy, a gay venue located in Le Bon Palais close to Drottninggatan. We loved the club but it didn't really start to get crowded until 1am. Lots of different bars that caters to different people and age groups.
Saturday July 25
We woke up to heavy rain and according to the forecast it wasn't going to get much better either. A perfect hangover day, in other words, and we stayed in most of the day, watching Netflix and enjoying each others company. Only ventured out a couple of times to order takeaway and to let our daughter do her business.
Sunday July 26
Finally time to get moving again. We had heard a lot of nice things about a cute little town called Mariefred located on Lake Maleren – just outside of Stockhom.
This picturesque small town has plenty of history, and is located just over an hour by car from Stockholm, and is built around the majestic Gripsholm Castle. Gripsholm was a fortress in the 14th century, and took its present form in the 1530s under King Gustav Vasa. It houses the Swedish State's portrait collection. Grafikens hus, an important museum for graphic art, is also well worth a visit.
During the summer months, you can also reach the town on the historical steamship Mariefred. The ship was launched in 1903, and has trafficked this route ever since. The trip takes a full 3 hours, but can eat lunch on board in the beautiful dining saloon. The town also has a very cutsie narrow-gauge historical railway, and the town center has numerous charming restaurants, cafés, and shops.
Monday July 27
There are few things the people of Stockholm is more proud of than their gorgeous archipelago. This fantastic area containing literally thousands of islands is located right on the doorstep of Stockholm and is a part of the city's very heart and soul. Most of the islands – and many of the most beautiful ones – are only available by boat, and ferrys depart almost continuously from downtown Stockholm during the summer months.
But you can actually also reach parts of the archipelago by car, and we decided to go to Vaxholm, which is often referred to as the capital of the Stockholm archipelago. And, it's just a short and very beautiful drive of about 30 minutes to Vaxholm.
The name of the city comes from Vaxholm castle, which was constructed in 1549 on an islet with this name on the inlet to Stockholm, for defense purposes, by King Gustav Vasa.For historical reasons it has always been referred to as a city, despite the small number of inhabitants, which was only 4,857 as of 2010.
You can reach the castle by shuttle ferry's, which depart from Vaxholm several times an hour in the summer.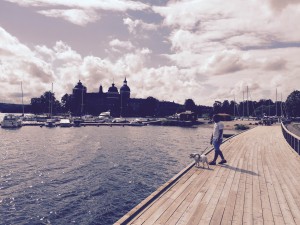 Tuesday July 28
Another trip comes to an end. We had so much fun, the weather was ok, and the beautiful people and surroundings of Stockholm continues to impress us.
We checked out of the hotel around 12 am and started the long trip home. Managed to get lost a few times on the wat, but after a several stops, and some cheap border shopping, we were able to be home around 8 pm.
Thank you, Stockholm, for a wonderful time yet again.